I am very happy to announce that my work is now being shown at the Ars Electronica Center in Linz, Austria. Twenty of my still images and two site-specific time-based works are being shown in the Center's Deep Space projection space. The showing is currently slated to last at least through 2009.
The Ars Electronica center is one of the longest-established centers for new media art, celebrating its thirtieth anniversary this year. On 2 January 2009, they celebrated the grand opening of a new building and the start of Linz's year as the European Union Cultural Capital.
In the Center's new building, Deep Space is a dedicated projection gallery with the capacity to show 4K (3840 by 2160 pixels), stereoscopic, 16 meter by 9 meter projections simultaneously on the wall and floor! With my still images, visitors will be able to zoom in on the full detail of the works, allowing them to explore the works in a way that until now was only possible in my studio. Very exciting.
Through fortuitous circumstance, I was in Linz for a site visit on the day the Deep Space projectors were turned on for the first time and my pieces were the first images to be projected in the space.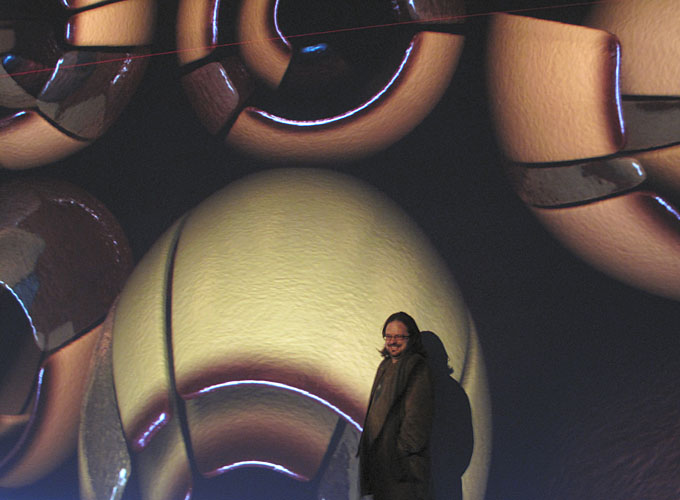 Here I am standing in front of a portion of EPF:2003:V:B:5::383(25) with a silly happy grin.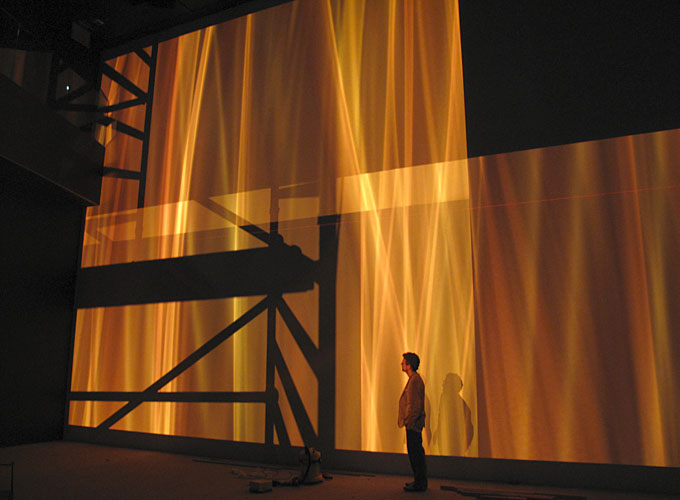 Here is Sean, acting as human scale, in the space, standing in front of a projection of my time-based work, 2007.3. The horizontal red laser line is being used temporarily for projector alignment. Four projectors are being used for the wall and another four for the floor (one of the projectors shut down within a few minutes of starting up). The bright horizontal and vertical bands are the projector overlaps that had yet to be blended away in the installation. (All of this is from early December, when the new building still was very-much-under-construction.)
In addition to the still images being shown, I prepared site-specific versions of 2006.7 and 2007.3 to be shown in the space. The two time-based works were recreated to take full advantage of the 4K cinematic projectors. Below are reduced stills from 2006.7 (Deep Space) and 2007.3 (Deep Space).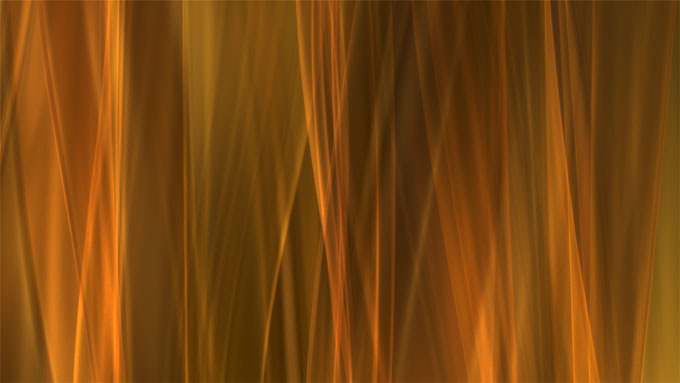 Additional events incorporating my work are being planned throughout the year, including during the Center's annual Ars Electronica Festival, 3–8 September 2009. I will post details here as soon as they are available.
Some links:

Filed in artwork, events and news | permanent link
Here's a happy thing to discover: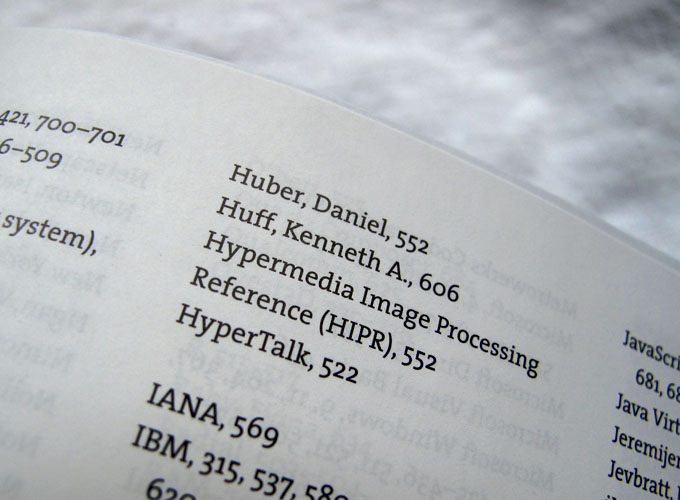 The book is Processing: A Programming Handbook for Visual Designers and Artists by Casey Reas and Ben Fry. The fun part is that I did not know that I was mentioned in the book. I had purchased it as reference for a programming class I teach and stumbled upon my name weeks later.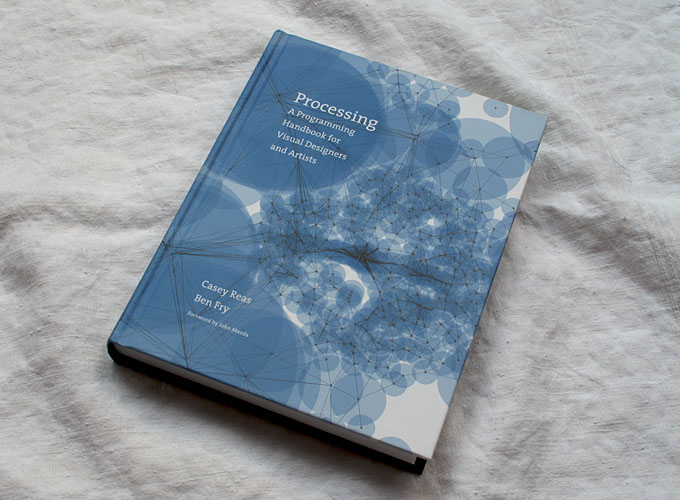 I am a long-time fan of the work of both Mr. Reas and Mr. Fry work. Their efforts to develop the Processing programming language and their individual works are inspiring (example and example). In the book, Mr. Reas writes a bit about my print-based work and the inspiration behind it.
In other book news, Aesthetic Computing has gone paperback: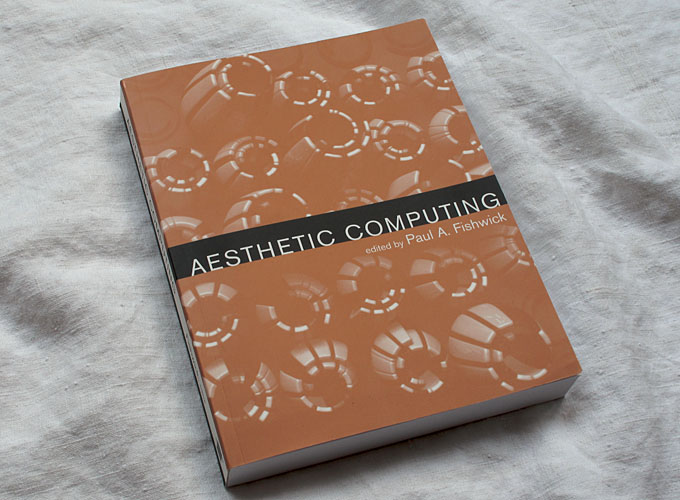 I created the cover artwork for the book and wrote a chapter about my Encoding with Prime Factors series. (There is some information on the series and process here and some example works are shown here.)
When in New York recently, I also noticed on the bookshelves that Bruce Wand's Art in the Digital Age is available in softcover. A number of my pieces appear in the book.
In unrelated reference photography, here are a couple of details from buckeye seeds and seed pods: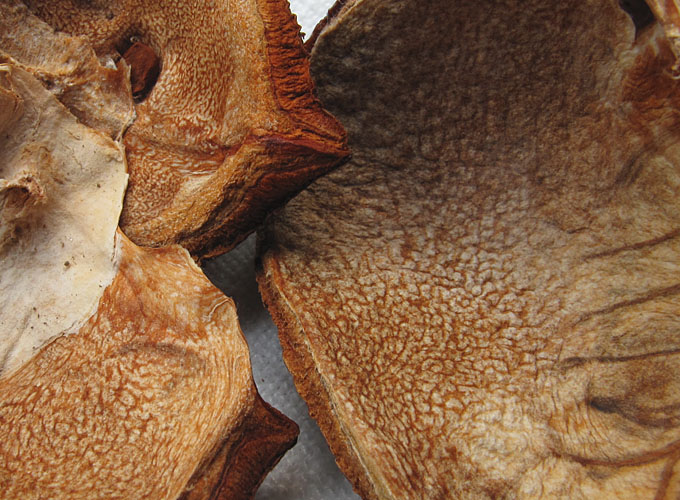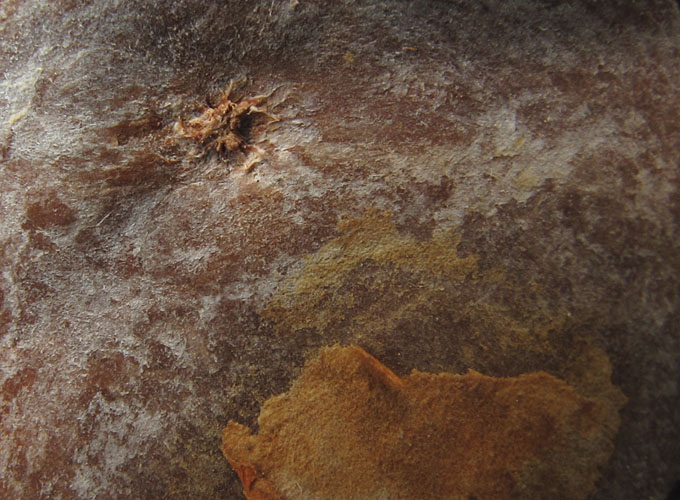 Back to preparations for Saturday's installation…

Compiled in news | permanent link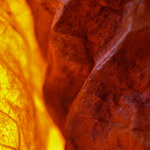 If I find in myself desires which nothing in this world can satisfy, the only logical explanation is that I was made for another world.
— C.S. Lewis
A few week ago, I was asked to present my work at the opening night of the 2008 Savannah Film Festival. Seen here is the installation right before the place filled up with people.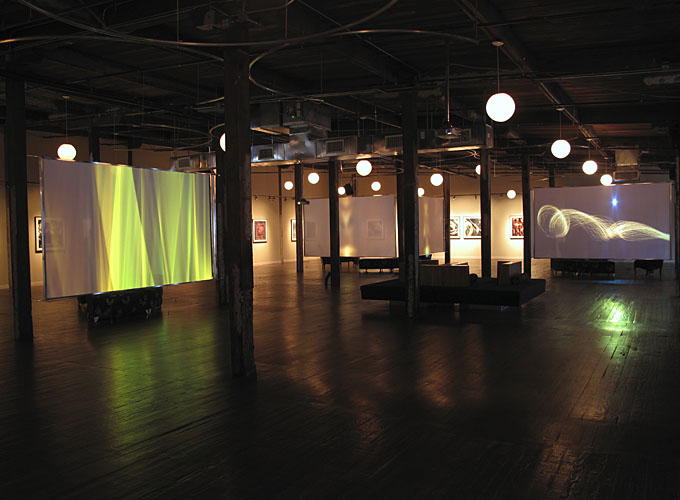 There are six screens, in L-shaped pairs (two screens are obscured from view). The time-based works shown, from left to right, are 2007.3, 2007.6.3 and 2007.4. (These all are very recent works that have not made it onto my web site.) Also on display are fourteen print works: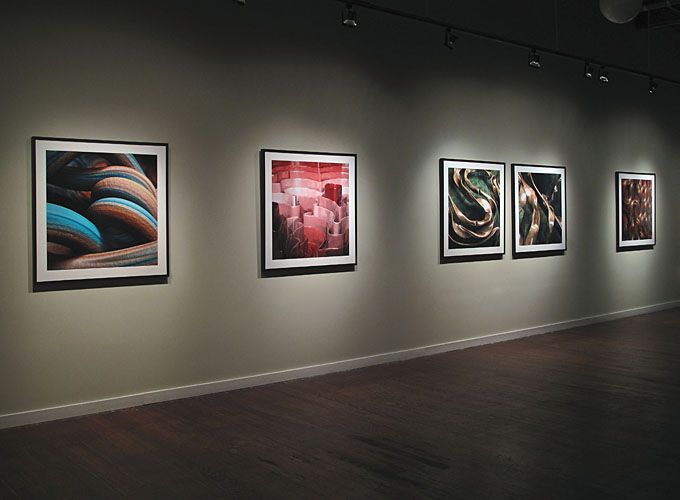 Shown here are 2001.1, 2003.1a, 2003.2d, 2004.2c and 2000.16b.
As an overarching theme for much of my time-based work, I have been working with the ancient elements. Many ancient philosophies looked to a small group of archetypal elements as a framework for understanding the physical world, explaining patterns and substance in nature. Currently, I am working with the four ancient elements common to Buddhist, Greek and Hindu philosophies — earth, air, fire and water. Here are sample frames from the fire time-based works shown last night: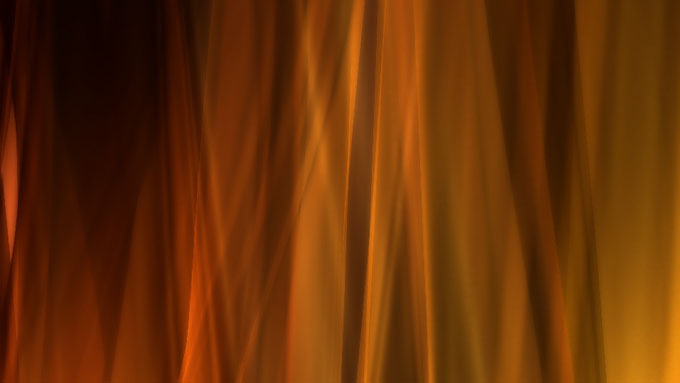 2007.3, animation, seamless loop; 2007; 1 hour, 20 minutes, high definition (1080 x 1920, 30 fps).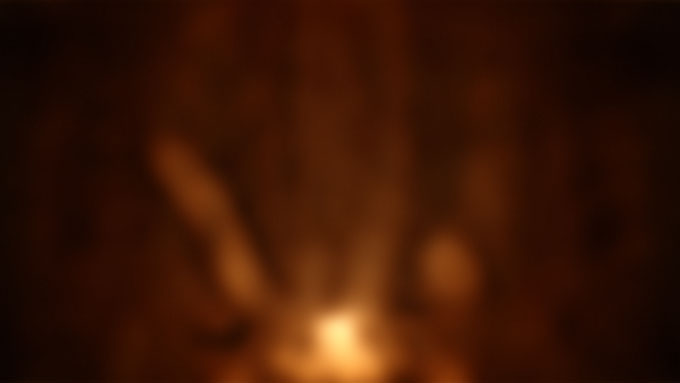 2007.6.3, animation, seamless loop (work in progress); 2007; 2 channels; 1 minute, 15 seconds each; high definition (1080 x 1920, 30 fps).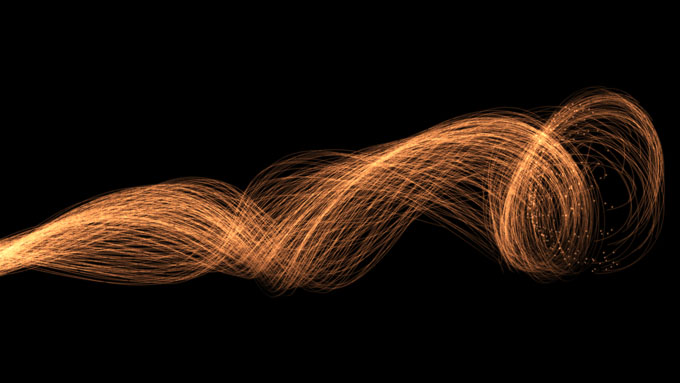 2007.4, animation, seamless loop (work in progress); 2007; 7 minutes, high definition (1080 x 1920, 30 fps).
The installation also will be in place for the closing party on Saturday, 1 November. Just to keep it interesting, I will be switching out all of the projections…

Systematized in artwork, events and news | permanent link
Monday, 13 October, at 6:00 p.m., I will be in Newark, New Jersey presenting a lecture about my body of work.
The New Jersey School of Architecture at NJIT has invited me to present my work as part of their Fall 2008 Lecture Series. I will be giving a broad overview of my body of work, as well as discussing the intent and inspiration behind the work.
The event takes place in Weston Lecture Hall 1.

Collated in events and news | permanent link
There ain't no rules around here. We're trying to accomplish something.
— Thomas Edison
While I have maintained a blog-ish News section for more than ten years, I recently decided that I wanted to jump on the great blogging band wagon. It is a wonderful format for posting news, but also for sharing the creative process, technical information and a selection of things that inspire.
No promises regarding frequency of updates, content, etc. I will do my best to keep it interesting.
Take care,
—Ken

Placed with news and site updates | permanent link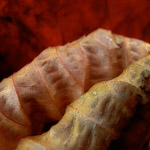 If the world were merely seductive, that would be easy. If it were merely challenging, that would be no problem. But I arise in the morning torn between a desire to improve the world and a desire to enjoy the world. This makes it hard to plan the day.
— E. B. White, 1976
« Recent entries