The Ars Electronica Center is a long-standing new media art center in Linz, Austria. The Center is celebrating its thirtieth anniversary this year with the opening of a new facility, also coinciding with Linz being the European Union 2009 Cultural Capital. The center's annual Ars Electronica Festival is one of the foremost new media art festivals.
Symphony performance
For this year's festival, I was invited to create time-based work to accompany a symphonic performance of the piano concerto, Lousadzak (Coming of Light), op. 48 by Alan Hovhaness. Dennis Russell Davis will be conducting the Bruckner Orchester Linz with Maki Namekawa on piano. The performance will take place at the Brucknerhaus on Sunday, 6 September.
Exhibition
2000.16b at Ars Electronica Center. Originally uploaded to flickr by magrolino.
Since 2 January 2009, twenty of my still images and two site-specific, time-based works are being shown in the new Ars Electronica Center Deep Space projection gallery. The showing is currently slated to last at least through 2009. The two time-based works were recreated to take full advantage of the 4K cinematic projectors of Deep Space. My work is one of the inaugural artist installations in the space.
This showing of the still images is the first time, outside of my studio, that people are able to interactively explore the full detail of these works, all of which are digital renderings, up to 20,000 by 12,000 pixels. The works are projected to wrap around a 16 by 9 meter wall and similarly-sized area of the floor. Viewers are able to zoom into the full detail of the pieces. The works range from 1999 to 2007 and are a broad overview of many of the themes I explore, from mathematical knots to Truchet tilings to the concentric line patterns of fingerprints.
Symposium presentation
In connection with the Deep Space exhibition and as part of the festival's Pixelspaces symposium, I will be giving a presentation about my work on 4 September. I will be talking about the inspiration and ideas behind the pieces, with particular emphasis on scale and detail.
The Ars Electronica Festival runs 3 through 8 September at the Ars Electronica Center and throughout Linz, Austria.
The Deep Space exhibition will run at least through the end of 2009.
Links
Pixelspaces symposium presentation
There are some additional photographs of the exhibition in this earlier blog post. I hope to have some photographs and images upon my return from the festival in early September.

Sorted in artwork, events and news | permanent link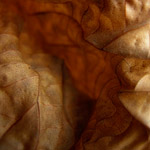 Renew, release, let go. Yesterday's gone. There's nothing you can do to bring it back. You can't "should've" done something. You can only do something. Renew yourself. Release that attachment. Today is a new day!
— Steve Maraboli
I am off to New Orleans for SIGGRAPH 2009. I will be presenting my Encoding with prime factors series during a panel discussion, The State of Aesthetic Computing or Info-Aesthetics, on Monday, 3 August at 3:45 p.m.
This will be my twelfth year contributing to the conference.
I especially am looking forward to the Computer Animation Festival's Stereoscopic program and, before the conference starts, the 7th International Symposium on Non-Photorealistic Animation and Rendering.

Collated with artwork, events and news | permanent link
I just returned from a five-week visit to Singapore. I was invited by Lucasfilm Animation Singapore to do some training for the apprentices in their Jedi Masters Program. While there, I also gave seminar presentations on my body of work, a behind-the-scenes, technical look at the same, and on stereoscopic imaging (its history, some important technical concepts and the creation of anaglyphic images from photography).
Here is one of my photographs from Singapore that was shown during the stereoscopic imaging presentation. We found this wonderful display of waylang golek puppets in a Singapore store, Mata-Hari. I took the photograph as a stereoscopic pair and it is presented here first as one of the original photographs and second as an anaglyph.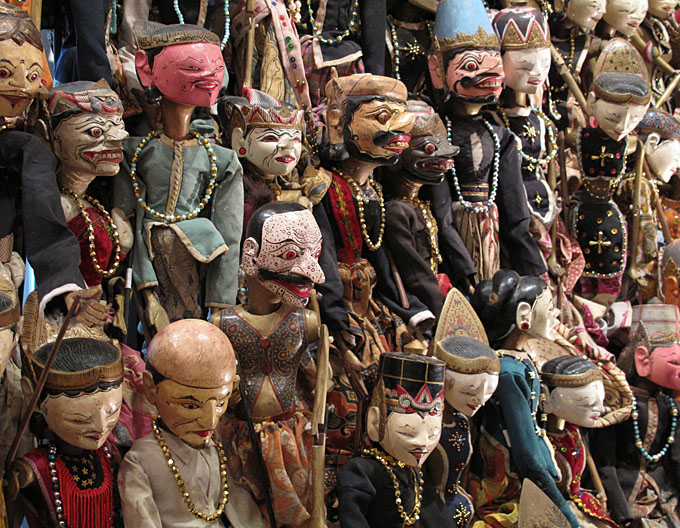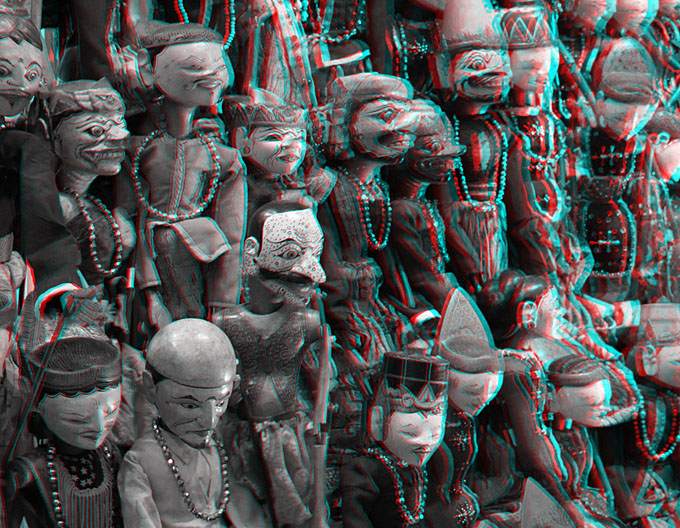 I had the opportunity to visit and present my work to a number of schools during my time in Singapore, including Egg Story Digital Arts School, the Temasek Design School at Temasek Polytechnic, the School of Interactive and Digital Media at Nanyang Polytechnic, the School of Digital Media and Infocomm Technology and the School of Design at Singapore Polytechnic, Intense Animation Academy and SAE Institute Singapore.
Lucasfilm Animation also sponsored a public lecture at the studio.

Organized with events, news, personal, photography and stereoscopic | permanent link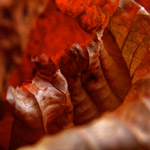 The Greeks had two words for time. Chronos is the time we usually keep an eye on. Kairos was our participation of time. Time that moves us so that we lose our sense of time; timeless time; moments at which the clock seems to stop; feeding, renewing, more motherly time. It's the time with which we feel one instead of outside of it, the self, the tao, the love that connects us to others.
— Jean Shinoda Bolen
Here is a photograph of one of my print works, 2000.16b, showing in the Ars Electronica Center's Deep Space gallery. There are people standing on my artwork and I do not mind in the least.
deep space II (aec). Originally uploaded to flickr by magrolino.
There is another photo here of 2005.1.

Classified under artwork, events and news | permanent link
The Telfair Museum (Savannah, Georgia) is holding their annual art and technology event, now a festival, in their Jepson Center for the Arts. The PULSE: Art and Technology Festival will run 21–31 January 2009. One of my prints, 2003.1a, and a time-based work, 2007.2a, are being shown and I will be presenting a lecture on my work during the event.
Here is 2003.1a and a detail from that print work: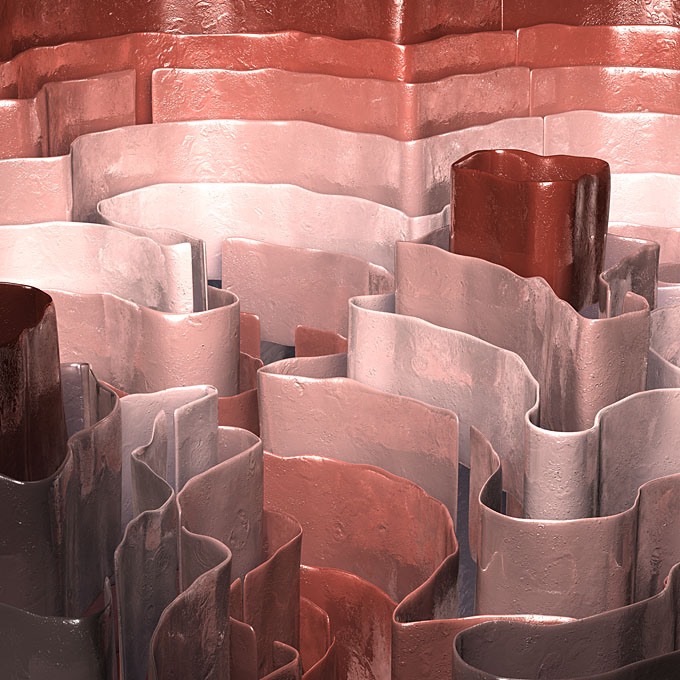 2003.1a, limited variant edition print, 2003, Kenneth A. Huff.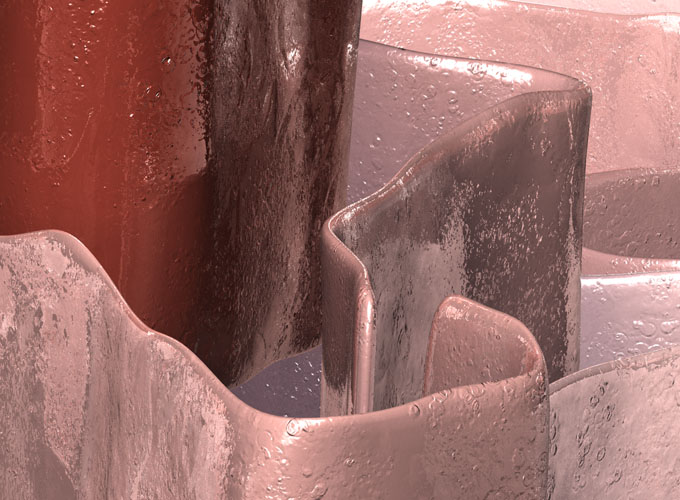 Detail from 2003.1a, limited variant edition print, 2003, Kenneth A. Huff.
And here are some still frames from the animated work, 2007.2a (you can see short excerpts from the piece here and here):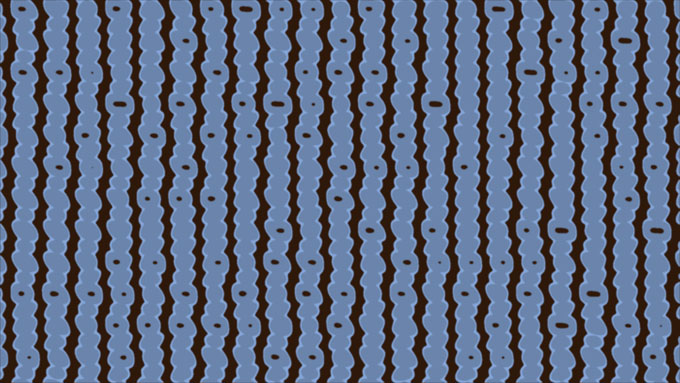 Still frame from 2007.2a, seamlessly-looping high-definition animation, 12 minutes, 2007, Kenneth A. Huff.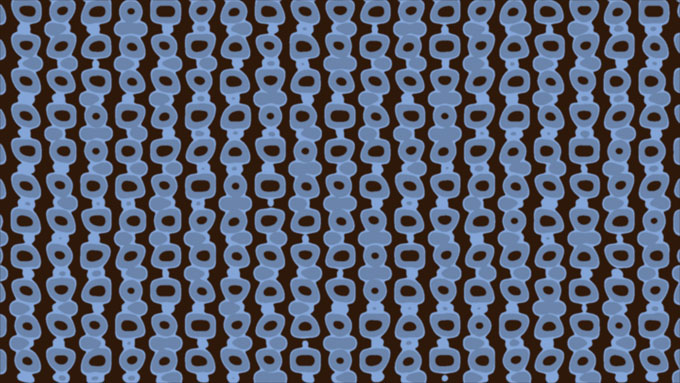 Still frame from 2007.2a, seamlessly-looping high-definition animation, 12 minutes, 2007, Kenneth A. Huff.
Still frame from 2007.2a, seamlessly-looping high-definition animation, 12 minutes, 2007, Kenneth A. Huff.
The lecture will be at 12:30 p.m. on Monday, 26 January 2009 in the Jepson Center Auditorium. I will be presenting my body of work, focusing on the inspiration and ideas behind the work, with particular emphasis on the two series of works represented by the two pieces above.
While the festival ends on 31 January, the museum currently is scheduled to continue showing my print and animation throughout 2009.
[Personal aside: I am particularly excited to see tonight's performance by Ben Neill and LEMUR (League of Electronic Musical Robots).]

Filed with artwork, events and news | permanent link
« Recent entries
::
Earlier entries »