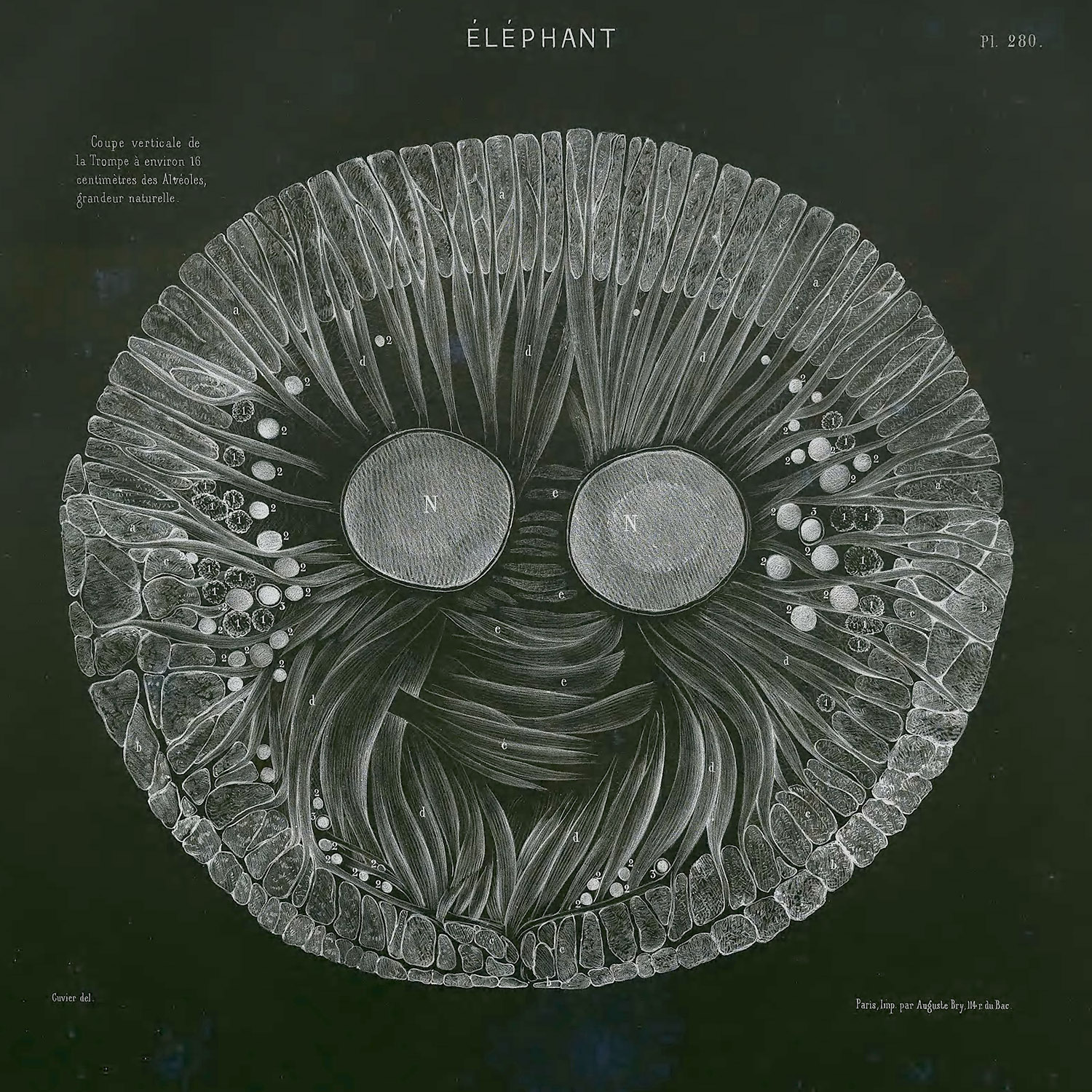 Cross section of an éléphant's trunk from Anatomie comparée by Georges Cuvier, 1850.
Dude!* (Maybe not such a good idea to look at this late in the day with tired eyes. I'm just sayin'.)
Painting with light on a stellar scale.
Soap bubble blowing slow motion.
It is a little-known fact that, because of the intense magnetic fields near the North Pole, airplanes have to fly sideways over the Kara Sea. This is why they make you close the window shades. Here is my proof: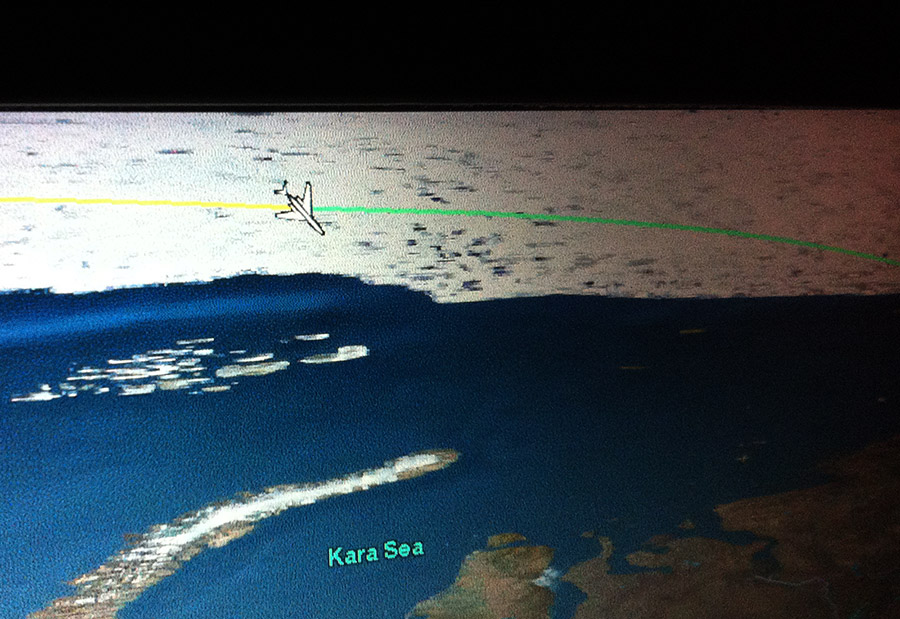 Dear U––––– Airlines, Putting some random foodstuffs in wonton wrappers does not mean that you are serving "dim sum".
Finally, "Whoa!"*
* Reader's choice of inflections.

Codified under brain kibble | permanent link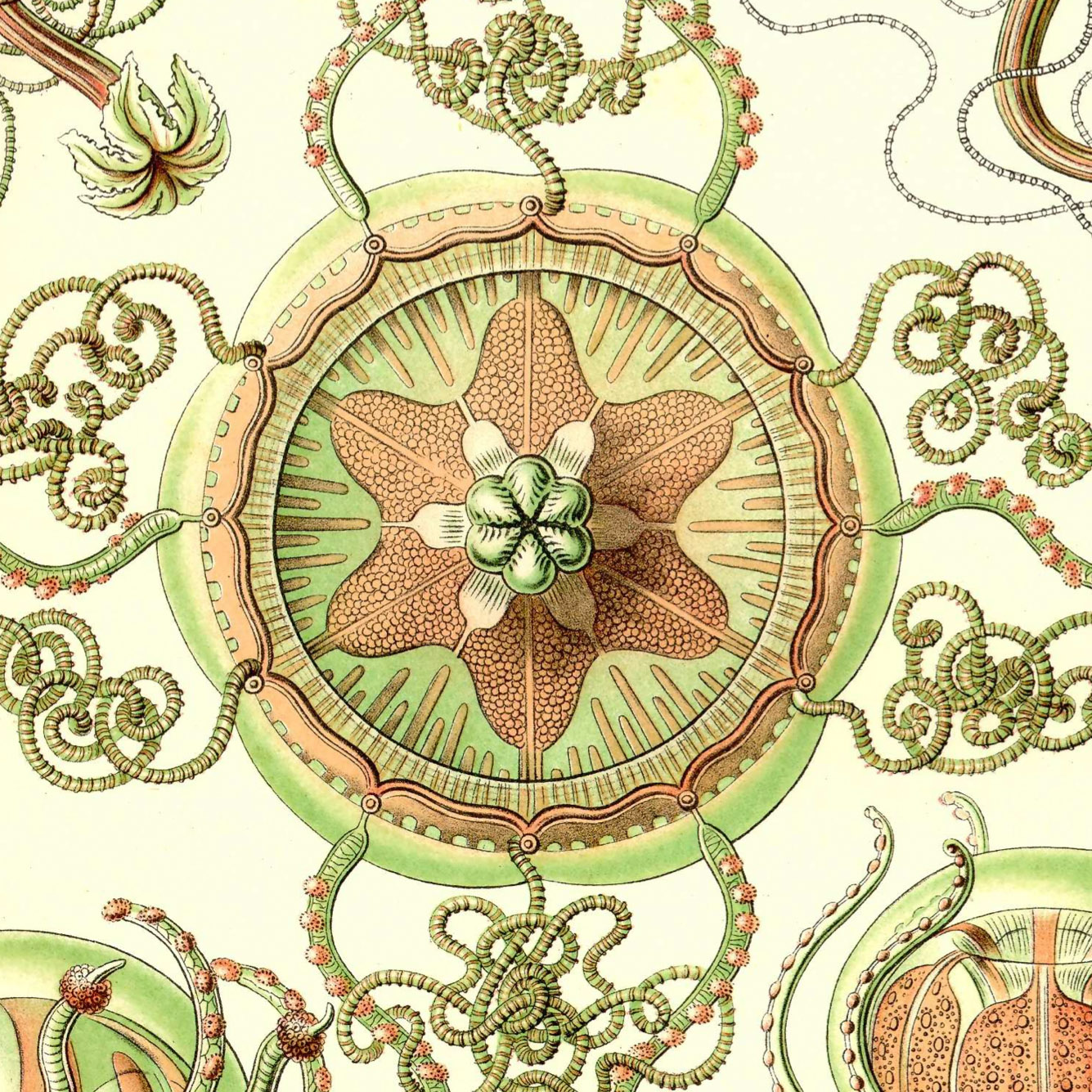 From Ernst Haeckel's Kunstformen der Natur
The best version of Ernst Haeckel's Kunstformen der Natur I have found on the Intertubes (all 273 Mb of it).
Giant bubbles — Need I say more?
Indecorous, ambiguous and irreverent titles and subtitles — Oh, oh. I'm in trouble.
A man committed to his big red dots. And, for balance, a better use of big red dots.
There's a hole in my Mars, dear Liza, dear Liza…

Collated under brain kibble | permanent link
Have you ever heard the wonderful silence just before the dawn? Or the quiet and calm just as a storm ends? Or perhaps you know the silence when you haven't the answer to a question you've been asked, or the hush of a country road at night, or the expectant pause of a room full of people when someone is just about to speak, or, most beautiful of all, the moment after the door closes and you're alone in the whole house? Each one is different, you know, and all very beautiful if you listen carefully.
— Norton Juster, The Phantom Tollbooth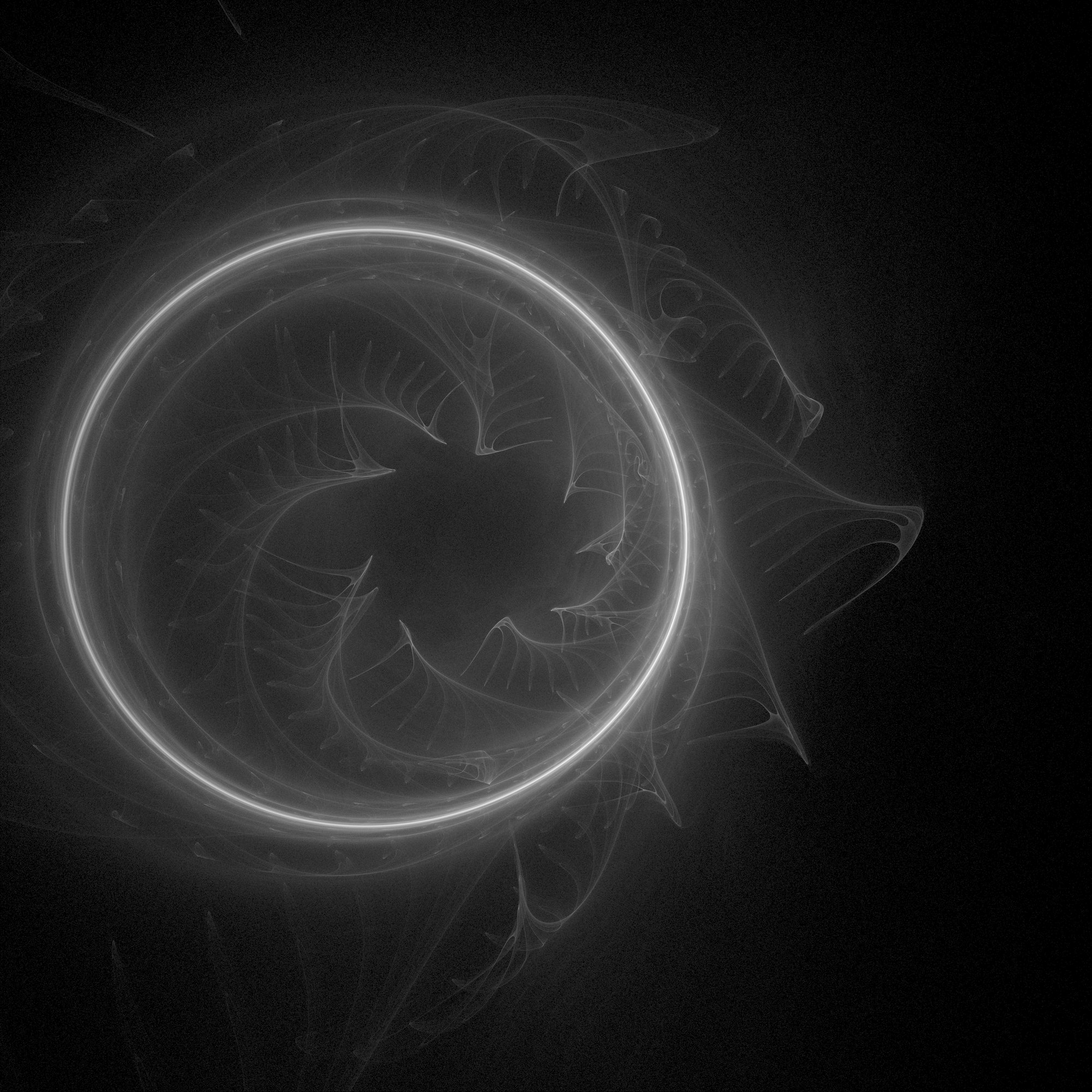 Kenneth A. Huff; Strange Attractions series; 2012; final medium to be determined.
First, they were leaping seconds, now they're smearing time.
"The first airship was constructed for his own use"
"Humanity's robot orbiting Saturn has recorded yet another amazing view" (my emphasis).
"…two tons of my bubbles are floating about the world…"
— Charles V. Boys, in the preface to Soap-Bubbles, Their Colours and the Forces Which Mould Them
The photographic works of Robert and Shana ParkeHarrison.

Cataloged in artwork and brain kibble | permanent link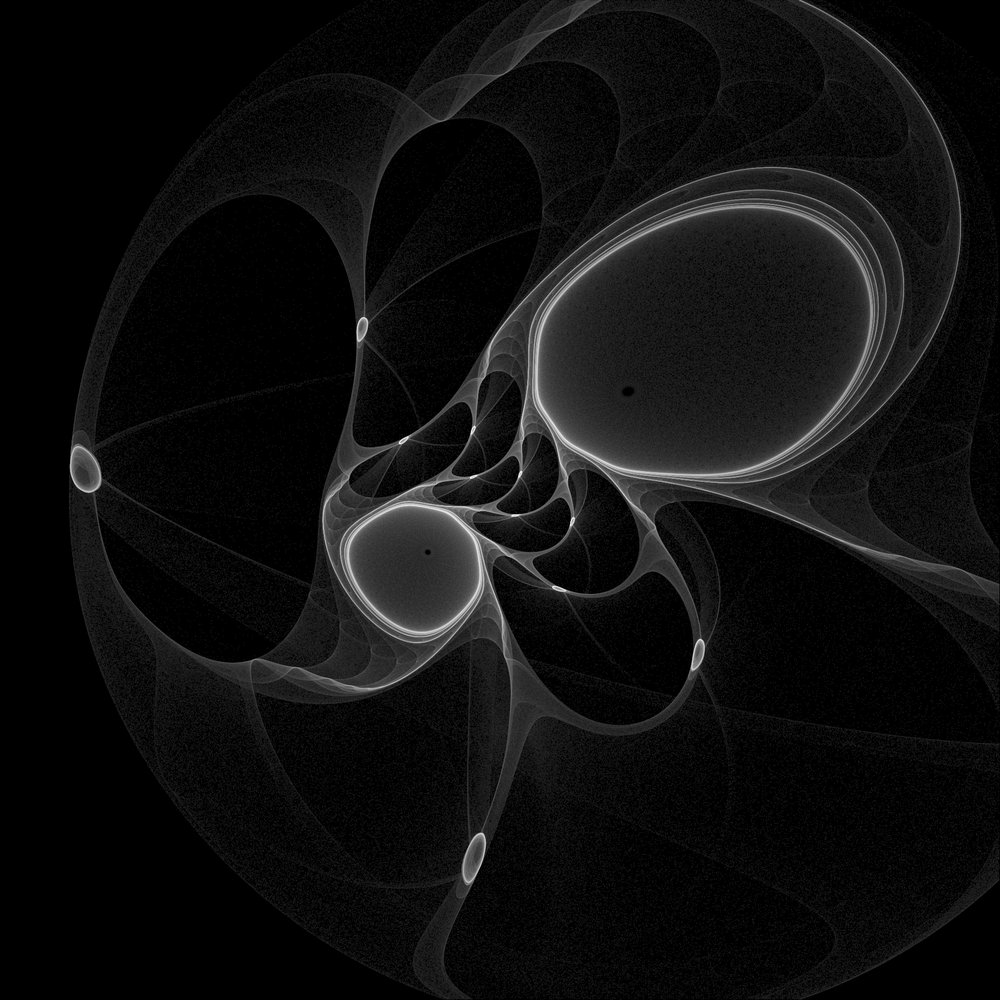 Kenneth A. Huff; Strange Attractions series; 2012; final medium to be determined.
This is kinda lovely. Those location- and orientation-aware camera phones are living up to their promise.
Ferrofluids and pigments. And a video (bottom of page). The fact that this is happening at a macroscopic level just makes it all the more yummy.
On the 30th, don't forget to enjoy your extra second. (Background information, how to catch one for yourself and formally.) I didn't know there were authorities responsible for the distribution of time.

Logged with artwork and brain kibble | permanent link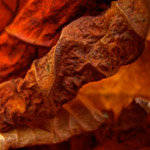 Never be bullied into silence. Never allow yourself to be made a victim. Accept no one's definition of your life; define yourself.
— Robert Frost
Over the years, I have amassed a collection of quotations, quips, aphorisms, turns of phrase, etc. that inspire me, remind me of the path I want to follow or just make me think. After each blog entry, there is a random selection from this collection.
Many of the quotations are related to creativity (any creative process). These often resonate deeply with me in my personal creative practice. Others are related to my/our place in this big, complicated world/universe.
If the words strike a chord in your noggin, I suggest that you do what I do — write them down somewhere, then and there. The same quotation won't be in the same place for long…
You have been warned…
[Insert slightly-maniacal laughter here — along the lines of "Wah-ha-HA!"]
To left of the quotations, you will find wee little thumbnails of photographs, currently from my 2006 Fallen forms, found series. Click on the thumbnail to see a larger version. Like the quotations, these images will move around…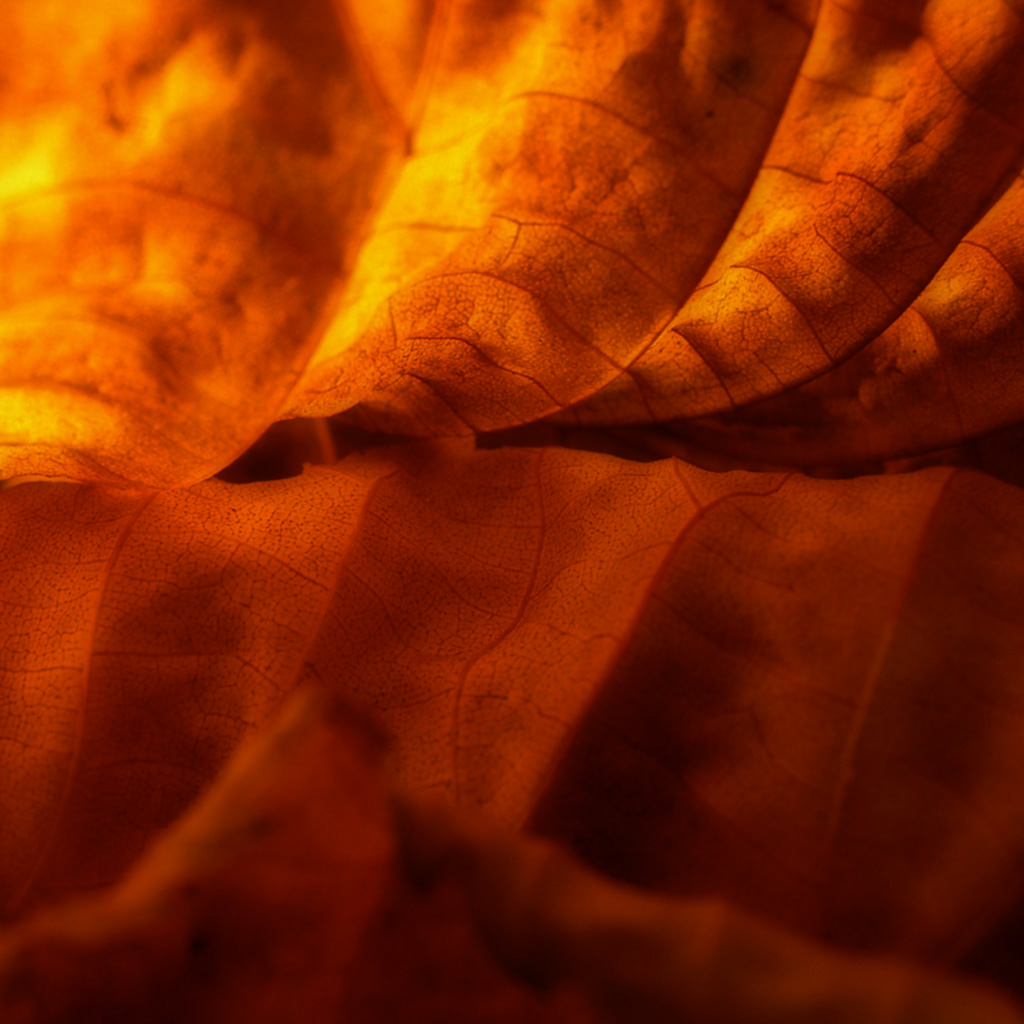 Kenneth A. Huff;Fallen forms, found series; 2006; photography.

Filed under artwork, brain kibble, photography and site updates | permanent link
« Recent entries
::
Earlier entries »