Here's a happy thing to discover: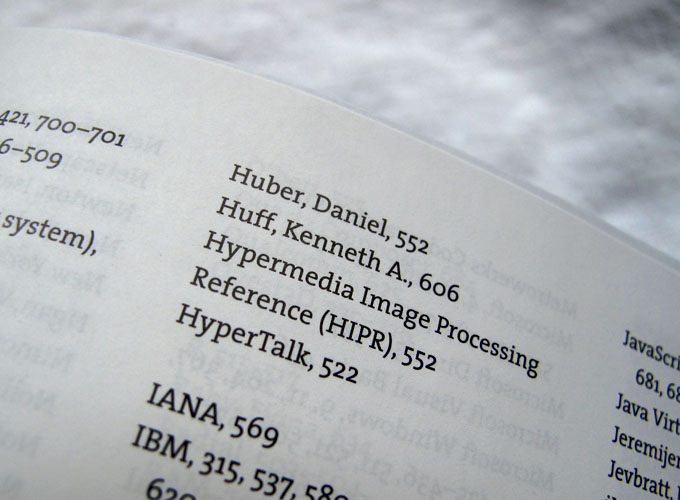 The book is Processing: A Programming Handbook for Visual Designers and Artists by Casey Reas and Ben Fry. The fun part is that I did not know that I was mentioned in the book. I had purchased it as reference for a programming class I teach and stumbled upon my name weeks later.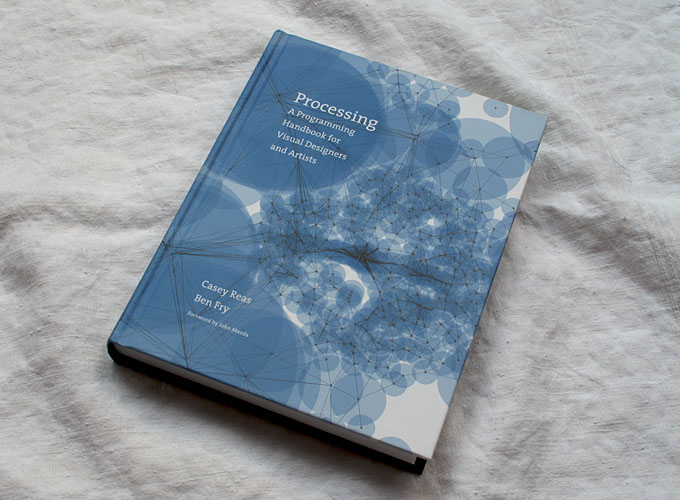 I am a long-time fan of the work of both Mr. Reas and Mr. Fry work. Their efforts to develop the Processing programming language and their individual works are inspiring (example and example). In the book, Mr. Reas writes a bit about my print-based work and the inspiration behind it.
In other book news, Aesthetic Computing has gone paperback: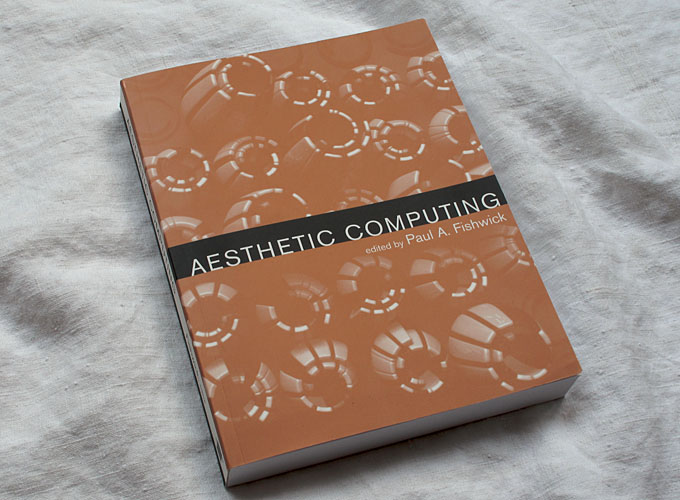 I created the cover artwork for the book and wrote a chapter about my Encoding with Prime Factors series. (There is some information on the series and process here and some example works are shown here.)
When in New York recently, I also noticed on the bookshelves that Bruce Wand's Art in the Digital Age is available in softcover. A number of my pieces appear in the book.
In unrelated reference photography, here are a couple of details from buckeye seeds and seed pods: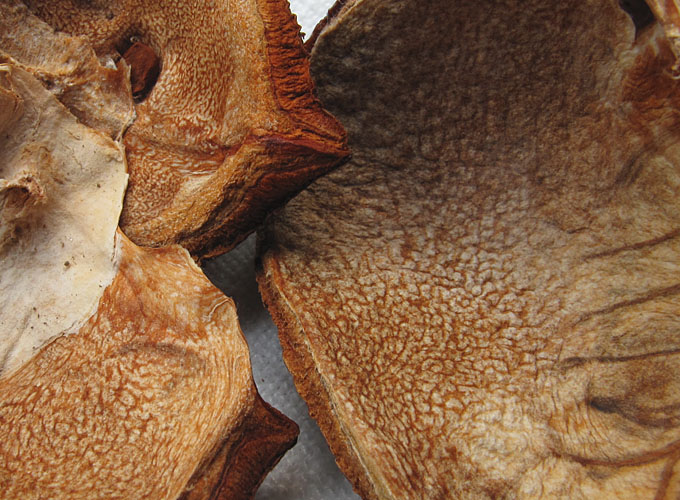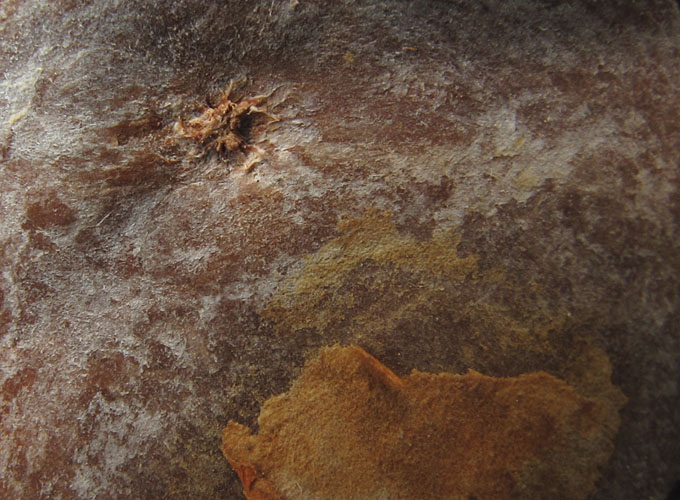 Back to preparations for Saturday's installation…

Arranged in news | permanent link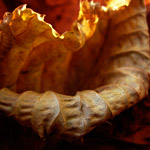 As sounds in a musical composition can be used not to express physical objects but ideas, emotions, harmonies, rhythmic orders and most any expression of the human mind and spirit, so light can be used visually to express the mind and spirit.
— Wynn Bullock (1902–1975)
A few months ago, I found some of these:
"We are most truly ourselves when we achieve the seriousness of a child at play."
— Heroclitus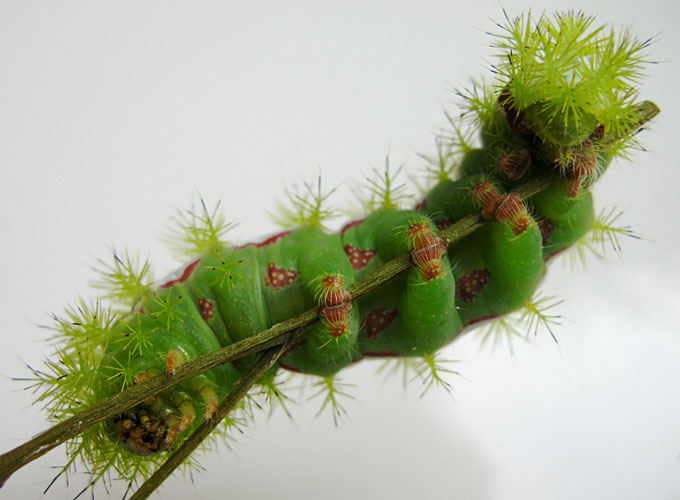 On my early morning walk a few days ago, I found another and decided to adopt it.
I was remembering again my favorite biology teacher and thinking to myself, "Self, what is this caterpillar going to become?" So I brought it home, placed it in a jar with a shoot of bamboo (for structure), a sprig of basil (for sustenance) and a wisteria seed pod (for transportation). I thought I would take some photos of the current specimen, but it turns out it was shy, and by the afternoon, it had wrapped itself in the leaves. So now I have this: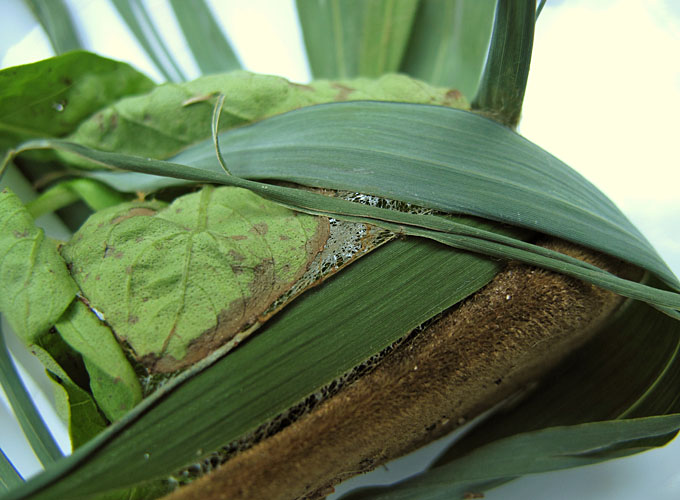 A wonderful structural detail: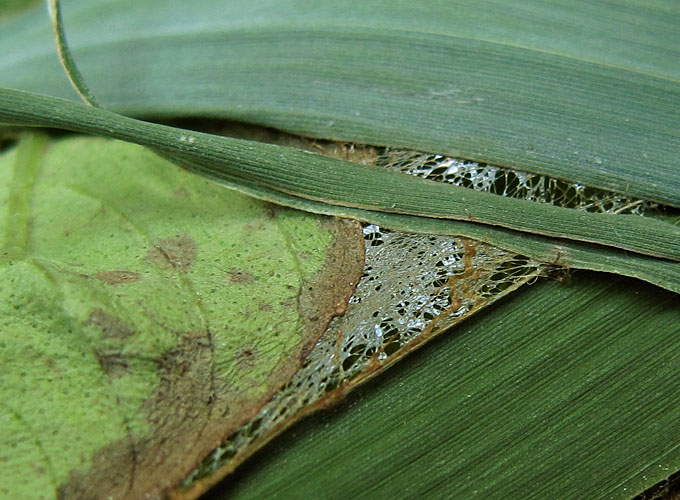 From the archives, a mug shot (or a tail shot, it's hard to tell):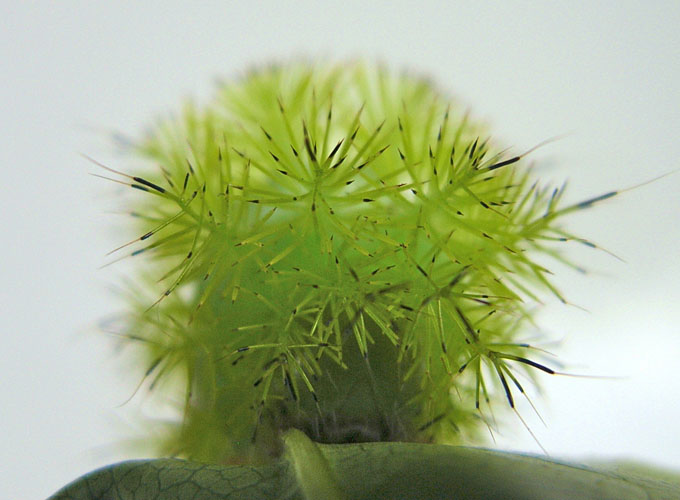 I love these feet: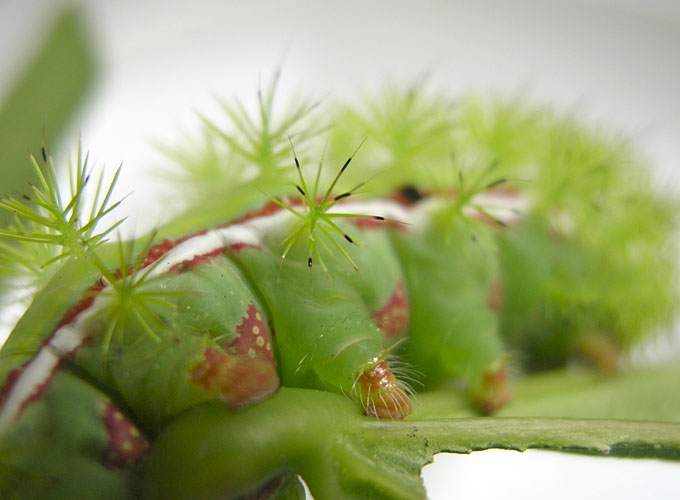 That's all. Well, okay, one more of those wonderful feet: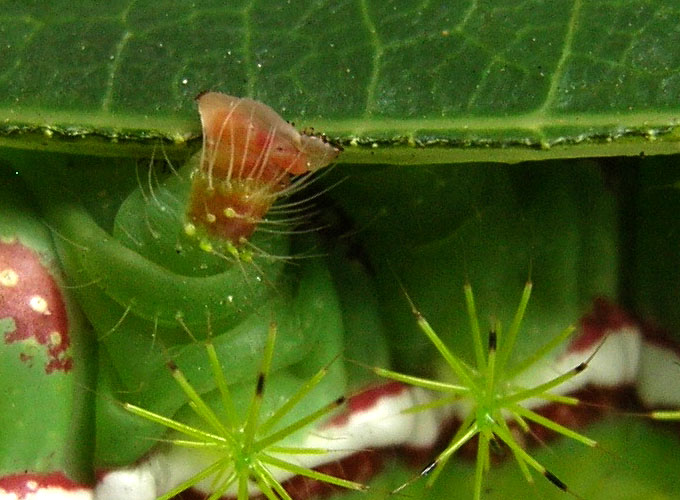 So, after I found my caterpillar and decided to adopt, I had to carry it back home. I placed it on a leaf and went on my way, only to pass three or four people walking their dogs. Some people walk their dog, I walk my caterpillar. You know, 'cause that's what you do when you have a caterpillar.
I am not going walk the cocoon…that would be weird.
Stay tuned…

Sorted in brain kibble, personal and photography | permanent link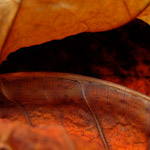 Nothing exists until or unless it is observed. An artist is making something exist by observing it. And his hope for other people is that they will also make it exist by observing it. I call it creative observation. Creative viewing.
— William Burroughs
"Nobody sees a flower — really — it is so small it takes time — we haven't time — and to see takes time, like to have a friend takes time." — Georgia O'Keefe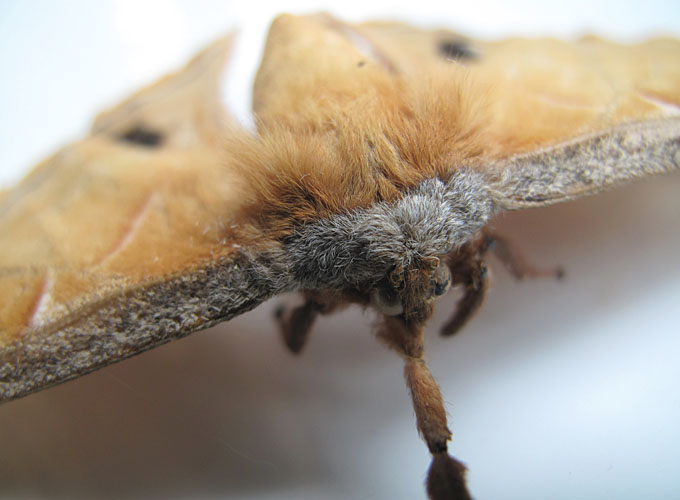 A few weeks ago, this moth caught my eye in our garden. I grabbed my camera and stealthily took pictures of my newly-found subject. Well, I thought I was stealthy. After a few minutes, I wanted to see if I could coax the moth to change position ("Turn a bit more toward the light please and chin up.") only to find that it was dead. Stiff as the proverbial board.
Now it is part of my collection of curiosities and a permanent point of inspiration.
One of the things I love about macro photography is that I end up being able to see things in the captured image that I cannot see with my naked eyeballs. Case in point: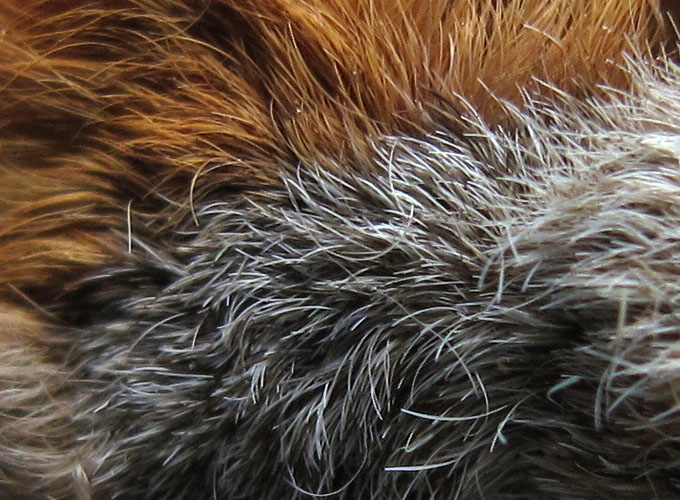 Luscious. If there are any lepidopterists reading this, I would be grateful to know the species of my furry find.

Collated with brain kibble, personal and photography | permanent link
A few week ago, I was asked to present my work at the opening night of the 2008 Savannah Film Festival. Seen here is the installation right before the place filled up with people.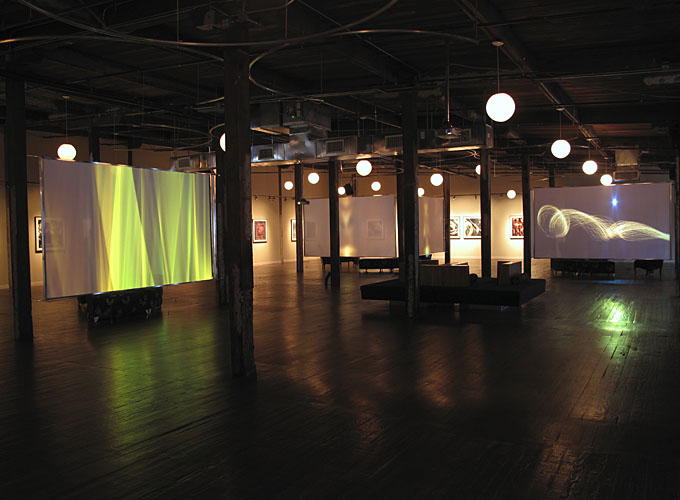 There are six screens, in L-shaped pairs (two screens are obscured from view). The time-based works shown, from left to right, are 2007.3, 2007.6.3 and 2007.4. (These all are very recent works that have not made it onto my web site.) Also on display are fourteen print works: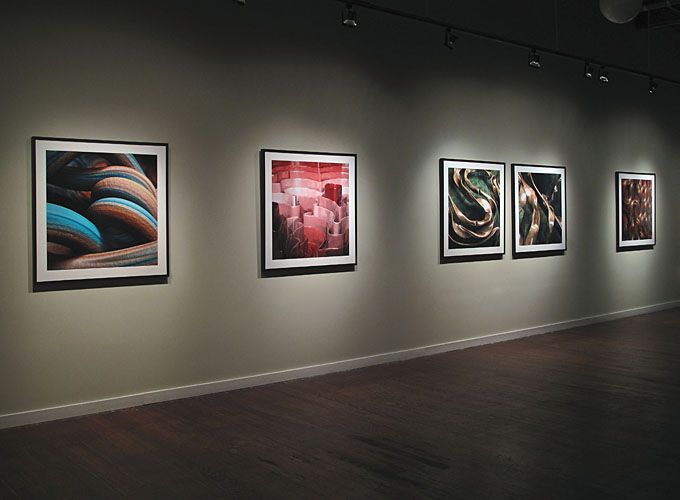 Shown here are 2001.1, 2003.1a, 2003.2d, 2004.2c and 2000.16b.
As an overarching theme for much of my time-based work, I have been working with the ancient elements. Many ancient philosophies looked to a small group of archetypal elements as a framework for understanding the physical world, explaining patterns and substance in nature. Currently, I am working with the four ancient elements common to Buddhist, Greek and Hindu philosophies — earth, air, fire and water. Here are sample frames from the fire time-based works shown last night: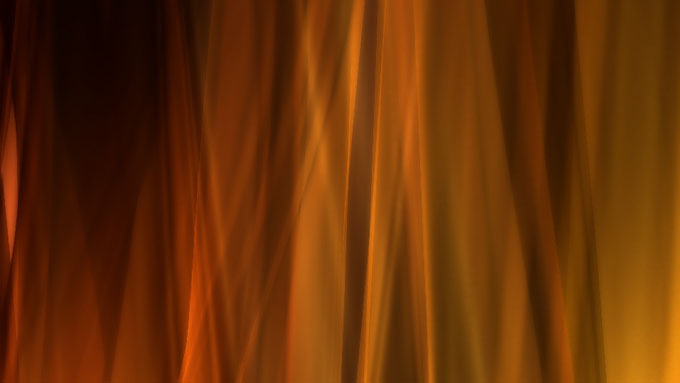 2007.3, animation, seamless loop; 2007; 1 hour, 20 minutes, high definition (1080 x 1920, 30 fps).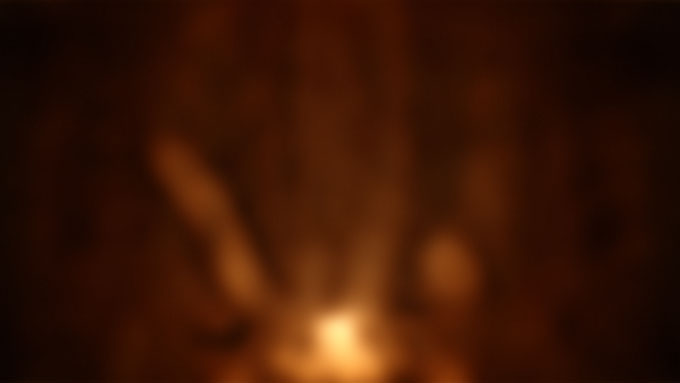 2007.6.3, animation, seamless loop (work in progress); 2007; 2 channels; 1 minute, 15 seconds each; high definition (1080 x 1920, 30 fps).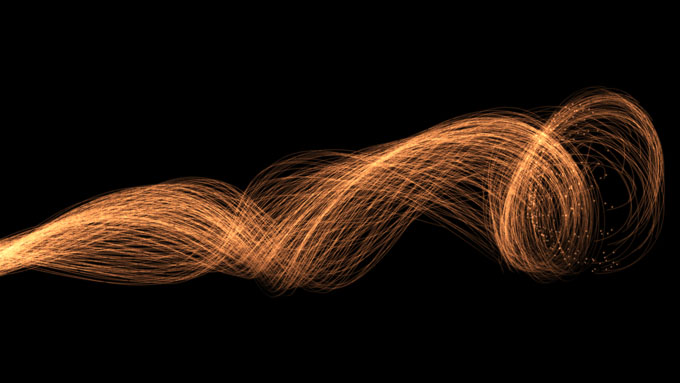 2007.4, animation, seamless loop (work in progress); 2007; 7 minutes, high definition (1080 x 1920, 30 fps).
The installation also will be in place for the closing party on Saturday, 1 November. Just to keep it interesting, I will be switching out all of the projections…

Organized with artwork, events and news | permanent link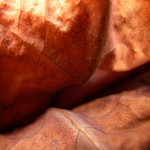 We are torn between nostalgia for the familiar and an urge for the foreign and strange. As often as not, we are homesick most for the places we have never known.
— Carson McCullers
Earlier entries »